| | |
| --- | --- |
| Electronic power supply | 100mA per channel |
| Maximum electronics requirements | |
| Outputs power supply | |
| Load ratings | |
| Dimensions (W x H x D) | |
The SPID-04 module is designed to manage 4 dry contact inputs from command buttons or sensors.Due to its small dimensions it can be easily placed behind the buttons keypad, inside the backbox. The module communicates with other products of the H/EASY home automation system through the BUS (H/BUS), in order to create global scenarios controlled using buttons and/or integrated with smartphones/tablets or touch screens.
Using the NEO software it is possible to customize the functionalities of the module and the scenarios. The module can be used in stand-alone mode using the 8 dry contact inputs connected to buttons or sensors.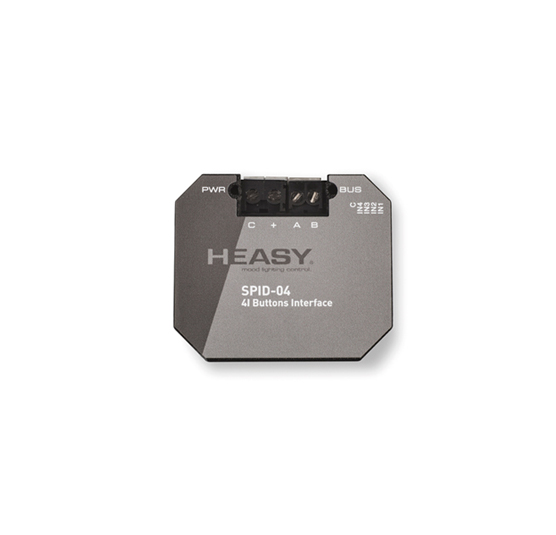 4 PROGRAMMABLE
DRY CONTACT INPUTS

The module communicates with other H/EASY system products through the owner bus (H/BUS).

The NEO software allows the customization of the programing and scenarios of the whole system.

5 year warranty on control modules.