Electronic power supply
11-28Vdc
Maximum input absorption
40mA
Dimensions (W x H)
Up to 4 buttons: 80×80 mm
Up to 8 buttons: 120x80x6 mm
H/Plate is the perfect companion to the H/EASY domotic system.
Designed for guarantee the maximum comfort to the end user, they are available with single and double buttons, neutral or with icons, singularly removable even after the complete installation. This delivers total flexibility to the final costumer up to the very last phases of the system handover.
The careful shape, electronic and design study allows to reduced size and total adaptability with a vertical and horizontal installation.
The H/Plates are mounted on 502 and 503 frames with magnets allowing an easy access to the wiring and maintenance. The electronics are designed for an optimal functionality within the H/EASY system, through a simple bus wiring, registering the button plate as a module within the network.The H/Plate dry contacts serie has been designed for all smart home systems. On every button there are selectable and/or programmable blue colored feedback LEDs.
The sockets are available both in 503 and 504 standard sizes.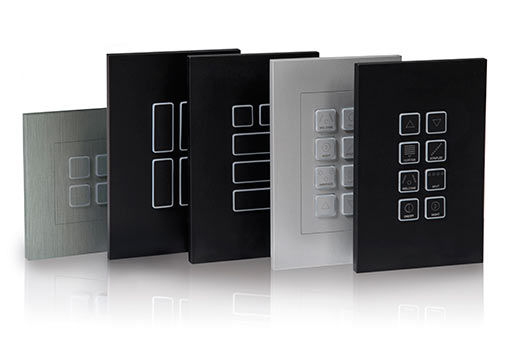 MINIMALISTIC AND
STYLISH DESIGN
FINE AND STURDY MATERIALS
TECHNOLOGY AND FULLY FUNCTIONALITY
FOR A FRIENDLY LIGHTING CONTROL
FLEXIBILITY AND CUSTOMIZATION

Colors: Matt black / Anodized silver / Brushed steel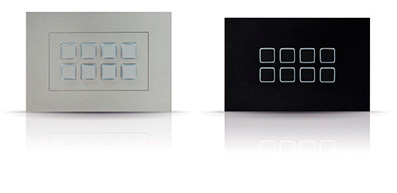 Surfaces available:
With perimetral line
Without perimetral line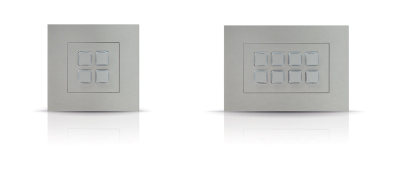 Models available:
502 – 80x80mm
503 – 120x80mm

The plates are available up to 8 buttons on one single plate.
The modularity of the system allows to adapt several configurations on a same plate.

Possible setting of the feedback of the backlit, manually or by programming.

Multiple types and combinations of backlit buttons with customizable icons for a simple and complete customization.